You've got 10 minutes to get her ready for retirement.
Can you do it?
Improve Efficiency and Engagement
Your day is jam packed with meetings, but you struggle to overcome your clients' apathy towards retirement planning and savings. You only have 10 minutes to put together a comprehensive plan for each client including the pension, social security, 403(b)/457 and other assets and present it engagingly.
We know the challenges the 403(b)/457 advisor is up against, and that's why we created The Retirement Analysis Kit (TRAK). TRAK is your solution to the unique complexities of the 403(b) and 457 marketplaces and the first choice of the 403(b)/457 advisors everywhere.
Yes, we understand your challenges and have created solutions designed for you.
When clients see the TRAK software and go through it with me, they become far more engaged in the actual planning process.
Streamline Planning Complexities
TRAK provides you one solution to handle every complexity. TRAK has over 700 pension plans built-in: no more trying to figure out several different benefit calculators or requiring your client to bring in their statements.
TRAK illustrates the pension's survivor benefit options, COLAs, even cash balance options. Include their 403(b) and/or 457 accounts, Roth accounts, and other outside assets and incomes as well. Seamlessly incorporate Social Security into their retirement needs analysis. Instantly compare different retirement scenarios, survivor benefit options, plan contributions, and more.
TRAK is the solution that brings these disparate parts under one roof, allowing you to create a custom 403(b) or 457 plan in just a few minutes.
Finding Your Niche as a Public-Sector Retirement Specialist
Check out our innovative 403(b) and 457 advisor solutions and start serving them today!
GET 403b WHITEPAPER
Forge Powerful Connections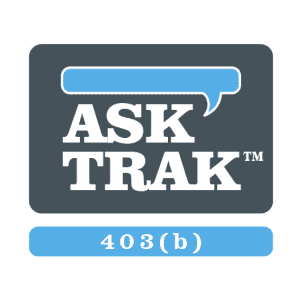 Unique features like the Paycheck Analysis and Gap Analysis form an instant and powerful connection with your clients. The Paycheck Analysis can re-create a client's paycheck allowing them to understand exactly how increasing their 403(b) or 457 contributions will affect their take-home pay. The Gap Analysis creates a complete retirement plan with all their incomes and projected benefits
When clients see how increased 403(b) or 457 contributions will improve their retirement outlook, many are motivated to increase their deferrals. Seeing how this fits in a full retirement plan engenders confidence.
Nobody says it like another advisor
Hear how other successful 403(b) advisors are using TRAK!
Discover a New Way to Engage Clients and Participants
Discover what many successful advisors already know, and see for yourself how TRAK can transform your conversations with clients and participants.
Free Trial
Purchase TRAK